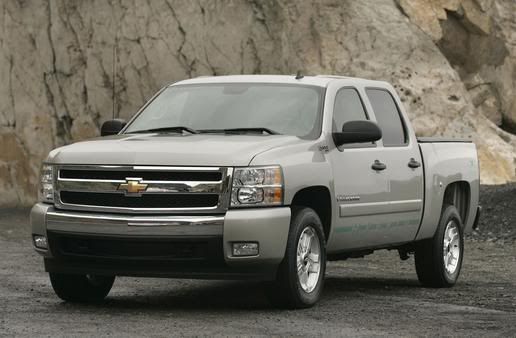 The GM Silverado pickup truck was originally launched in 2005 as a very mild hybrid vehicle. The 2009 Silverado hybrid pickup truck, however, will be launched as the the first full, dual mode hybrid vehicle, as it was when it debuted at the LA Auto Show.
Using a 6.0L V-8 and Electrically Variable Transmission (EMT), the Silverado hybrid, much like the Tahoe hybrid is expected to provide a significant increase in fuel economy. For example, the Chevy Tahoe hybrid can increase fuel economy by as much as 50 percent.
The industry's first full size hybrid pickup truck will deliver this exceptional fuel economy, without giving up full-size pickup truck performance. So, you can still pull your boat or camper without worry.
With an advanced EMT and a 300-volt NiMH battery, Active Fuel Management and late-intake valve closing combined with the 6.0L V-8, the Silverado hybrid pickup will be able to drive up to 30 mph on electricity alone and operate in economical 4-V power more often.
Nonetheless, when you need to pull your boat, or haul a ton - literally - of material to a worksite, the Silverado hybrid can function completely on V8 power.