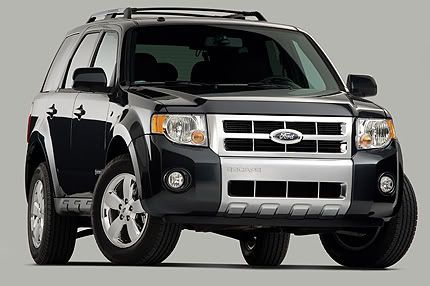 In the next few years, hybrid SUVs are set to become more popular as automakers hope to offer something for families looking to go green. But even as the market expands, history will note that the Ford Escape Hybrid was there first.
Debuting in 2005, the Escape Hybrid was not only the first mainstream hybrid SUV to be produced but also the first to come from a domestic automaker. Looking essentially identical to its non-hybrid counterpart, the Hybrid effectively offered the power of the V6 model with the fuel economy of the four-cylinder Escape.
Today, the Ford Escape Hybrid benefits from a recent redesign. Much of the sheet metal has changed, but the underlying hybrid components are still the same. As a choice for a new or used hybrid-powered small SUV, the Escape is worth a look.
Current Ford Escape Hybrid
The current Ford Escape Hybrid remains the most fuel-efficient SUV on the market. A two-wheel-drive Escape Hybrid should be able to deliver close to 30 mpg in real-world city and highway driving. Its powertrain consists of a 2.3-liter four-cylinder gasoline engine, a pair of electric motors and an electronically controlled continuously variable transmission (CVT) that basically works like a regular automatic transmission.
Under full acceleration, both power sources work together to provide maximum oomph, but under lighter load conditions, such as stop-and-go traffic, the Escape Hybrid alternates between the two, oftentimes running purely on battery power alone. A regenerative braking system converts energy normally lost as heat into electricity to recharge the car's batteries.
Although the cumulative horsepower rating of 155 doesn't sound very impressive, the Ford Escape Hybrid is quicker than the regular four-cylinder Escape and feels almost as fast as the V6 model. Two-wheel-drive or all-wheel-drive models are offered.
In 2008, Ford updated the entire Escape line and that included the hybrid. Changes were limited primarily to exterior and interior tweaks. The look of the interior is fresher and more contemporary than the previous Escape's cabin, although the interior overall is still lacking when compared to other small-to-midsize SUVs.
The main difference between driving an Escape Hybrid and driving a regular Escape comes down to handling: The Hybrid feels top-heavy around turns due to its extra 300 pounds of curb weight. And like the gasoline-only Escape, this hybrid SUV is best suited for on-road duty, as its unibody construction and all-wheel-drive system limit its off-road abilities.
Source:
Ford Escape Hybrid SUV Review - Edmunds