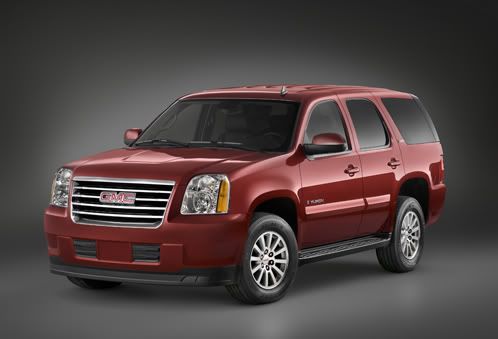 Though gas mileage ratings for GM's new full-size SUVs are impressive among their competitive set, they aren't likely to bring smiles to anyone at the pump; competitors aside, their combined ratings still linger in the teens. That changes with the 2008 Yukon Hybrid, a twin to the upcoming Chevrolet Tahoe Hybrid that promises a 25 percent improvement in overall gas mileage. Both models are expected to hit showrooms sometime in 2007. Hybrid versions of the Chevrolet Silverado and GMC Sierra pickup trucks will follow.
Exterior
GM says the Yukon Hybrid's minor exterior changes are intended to make the SUV more aerodynamic — welcome news, given the full-size SUV is weighed down even more by hybrid components.
A modified bumper drops the regular Yukon's fog lights for some chunky bodywork and two small portals. The grille has horizontal slats instead of the previous single-piece design. The SUV also includes lower side cladding and unique 18-inch wheels. Differences notwithstanding, few onlookers will mistake the Yukon Hybrid for anything but a Yukon.
Interior
Inside, the Yukon Hybrid's center display screen incorporates an animation showing the flow of power through the hybrid drivetrain. The gauges include a gas mileage meter.
Three rows of seats are standard. Available amenities include leather upholstery, power front seats and a navigation system. A rear-seat entertainment system with a flip-down screen is optional.
Under the Hood
The Yukon Hybrid uses a two-mode hybrid system jointly developed by GM, BMW and DaimlerChrysler. The system augments the SUV's V-8 engine with two electric motors packed into the transmission. Both are powered by a 300-volt battery pack. One of the motors operates the Yukon Hybrid in city driving, and the other works for highway cruising. A cylinder deactivation system cuts power to four of the eight cylinders during low-stress situations like downhill coasting, and braking friction is used to recharge the battery.
GM says the Yukon Hybrid achieves 25 percent better gas mileage than the conventional Yukon, which gets up to 22 mpg on the highway.
When properly equipped, the Yukon Hybrid will tow 6,000 pounds; the regular Yukon tows up to 7,700 pounds.
Safety
Four-wheel-disc antilock brakes and an electronic stability system with rollover mitigation are standard. Side curtain airbags are optional.
— Reported by Kelsey Mays, Cars.com